Welcome to my very first article! I created a recipe category to share healthy and sometimes vegan recipes that you can easily cook at home.
For this first recipe I decided to share a vegan aubergine gratin that I invented a few weeks ago.
---
 Health benefits of aubergine:
- great source of dietary fiber (fibers are known to be healthy)
- contains vitamins B1, B6 and potassium
- high in minerals copper, magnesium and manganese
With all those criteria aubergine is a great candidate for your diet!
---
preparation 20min, oven 10+40min 
(I used a micro-wave oven for this recipe and usually set the temperature a bit higher than a normal oven)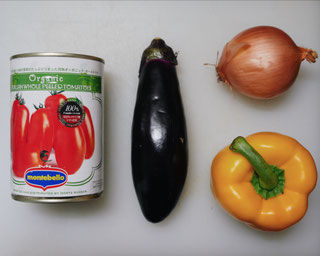 For this recipe you will need:
- 4 aubergines (the one I used were small)
- 1 yellow bell pepper
- 1 onion 
- soy meat (I used dehydrated soy meat), as much as you want
- 1 big tomato (I used can tomatoes this time because I could not find naked one)
- herbs of your choice
- kiri and parmesan for non-vegan alternative
1. Start by digging the aubergine, put them on a plate, spread oil and leave 10min in the oven (180C-356F)
2. While the aubergines are tanning:
- hydrate the soy meat
- cut the removed aubergine's flesh in small dices
- cut the onion, bell pepper and tomato in small dices
- mix everything in a bowl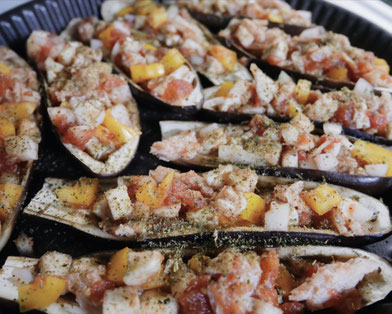 3. Once the soy meat is hydrated, cut into pieces and add to the bowl. You can now add the herbs that you like and drizzle with olive oil. (You can also add dices of kiri or any other cheese that you like.)
4. The aubergine that you put in oven previously must be ready by then. Grab a spoon and feed the dug aubergine of the mixture. You will probably have a rest of the mixture, I usually keep it and use it as a sauce pasta the next day.
5. Add some herbs on the top and bake in the oven 30 to 40min depending on your oven at (200C-392F)